And then, after displaying much patience, the city removes the wall.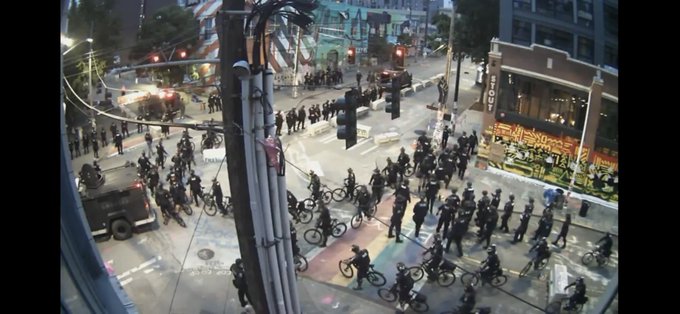 Photo: RT
The CHAZ is going, going…. Gone.  https://www.seattletimes.com/seattle-news/seattle-removes-some-barriers-at-chop/
From the article: Tuesday's back-and-forth over barriers was the latest episode in a kind of stalemate between the city and protesters who have occupied several blocks around the park and the Police Department's East Precinct for about three weeks, since the police left the precinct following standoffs and clashes with protesters calling for racial justice and an end to police brutality.
Calls to bring law enforcement back to the East Precinct and shut down CHOP have been amplified by four shootings in the area over a roughly nine-day span, including one Monday morning that killed a 16-year-old boy and wounded a 14-year-old boy.
There is more here, including videos:  https://www.rt.com/usa/493470-seattle-police-shut-down-chaz/
Officers can be heard advising demonstrators to leave the barricaded encampment around the Capitol Hill neighborhood, known as CHAZ and CHOP, or face detention.
Mayor Jenny Durkan had earlier issued a public safety emergency order to vacate the area. Police Chief Carmen Best said in a statement that her officers were moving in after "weeks of violence" in and around the protest zone.
Since its formation on June 8, the camp saw four shootings that resulted in multiple injuries and two deaths.
"The CHOP has become lawless and brutal. Four shootings – two fatal – robberies, assaults, violence and countless property crimes have occurred in this several block area," Best wrote. She stressed that her department would work with demonstrators to "build trust" and "begin meaningful dialogue about re-envisioning public safety in our community." – article
Two of those killed were children.  Sounds like the CHAZZers/CHOPpers were trying to turn their spot into a Pacific Northwest version of Englewood on Chicago's south side.
Anyone think this says Seattle's patience finally wore thin? I was kind of hoping they'd stay until the snow flies this winter, because even the Old Farmers Almanac says that the Pacific Northwest gets cold and snow in the winter. If only those CHAZers had been more civilized….
Here's an additional hour and a half of entertainment for you:  https://www.youtube.com/watch?v=OHFYp_UhmKw
Category: "The Floggings Will Continue Until Morale Improves", "Your Tax Dollars At Work", Darwin Awards