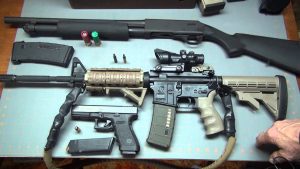 Idiot fires off (rifle/black weapon) outside Jesse Brown VA Medical Center in Chicago. (No, I have no idea exactly what he was carrying, just that vague description.)
https://chicago.cbslocal.com/2019/08/12/shots-fired-at-jesse-brown-va/
He was immediately taken down by the VA hospital's police. Nobody hurt, no explanation so far.
https://chicago.suntimes.com/crime/2019/8/12/20802580/jesse-brown-va-hospital-shots-fired-police-damen-taylor
From the article: As of Monday evening, the suspect was being interviewed by Chicago police detectives at Area Central headquarters.
Any criminal charges against him would be brought on the federal level, as the hospital is operated by the Department of Veterans Affairs. Sallet said the U.S. Attorney's Office for the Northern District of Illinois was "evaluating" charges Monday evening.
Lori Lohar, the hospital's acting director, said the suspect is "believed not to be a veteran." Tom Ahern, a spokesman for the CPD, said the suspect has a criminal history and is associated with several addresses. – article.
Just some disgruntled twit with a record and a chip on his shoulder decides he's going to "do something" and "get famous"… or something like that, so he goes and shoots at a building that happens to be a VA medical center. I'm sure there is more to come on this. So far, info is sketchy, but we have to get Mayor Lightfoot to a microphone in front of TV cameras so that she can speak about it.
Category: "Teh Stoopid", "The Floggings Will Continue Until Morale Improves", Gun Grabbing Fascists