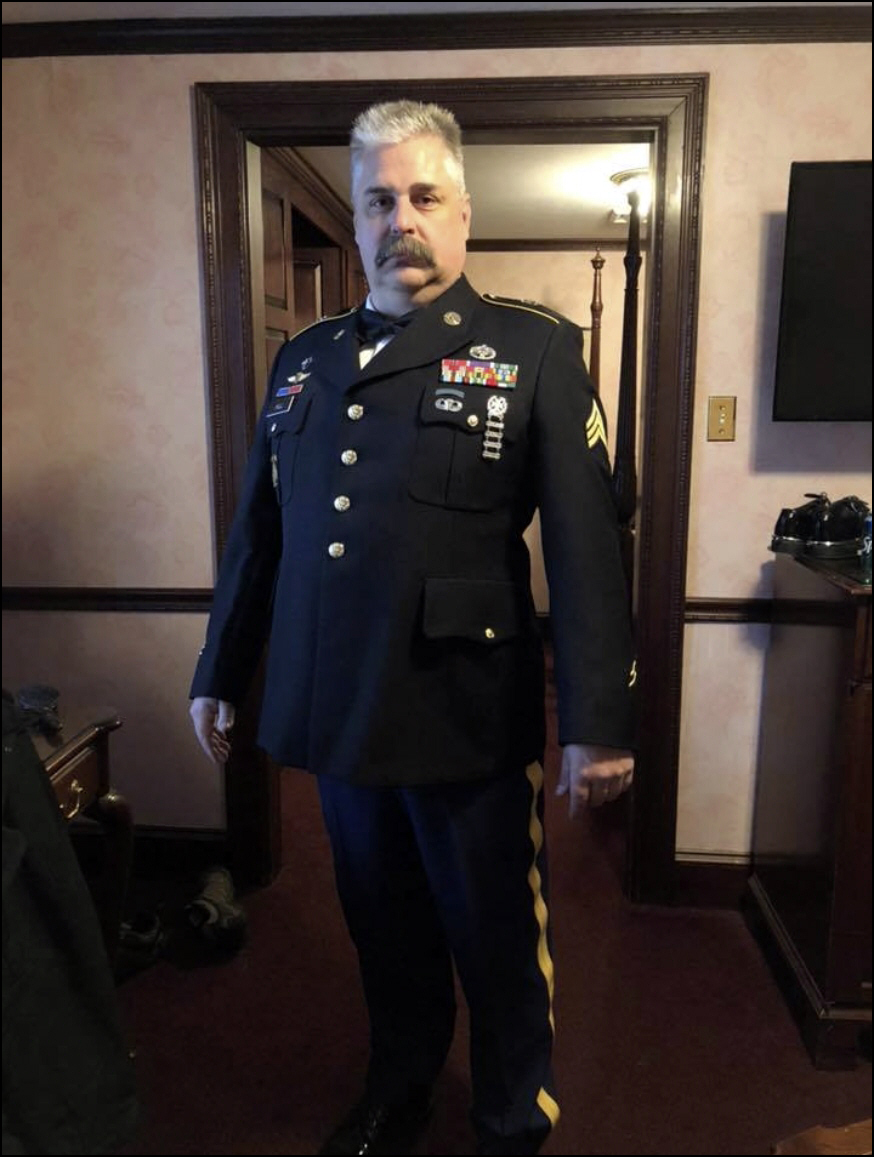 The folks at Military Phony send us their work on Charles Tobia Hill who is 48 y/o and lives in Reno, Nevada.  Hill attended a wedding recently where he dressed up in his Army dress uniform.  He had a tab that said "SPECIAL FORCES" along with a parachutists badge, a Combat Medical Badge, Sergeant stripes and service stripes designating 6 years of service.
To top it off – he had a Purple Heart on his ribbon rack.
This next photo is merely a zoom of the one above…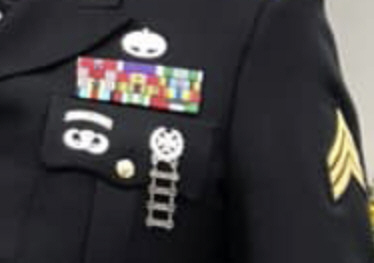 In this photo, you can clearly see the "SPECIAL FORCES" tab and Parachutist Badge along with the Bronze Star Medal with one cluster designating a second award…
Hill also made a Facebook post detailing all of his medals…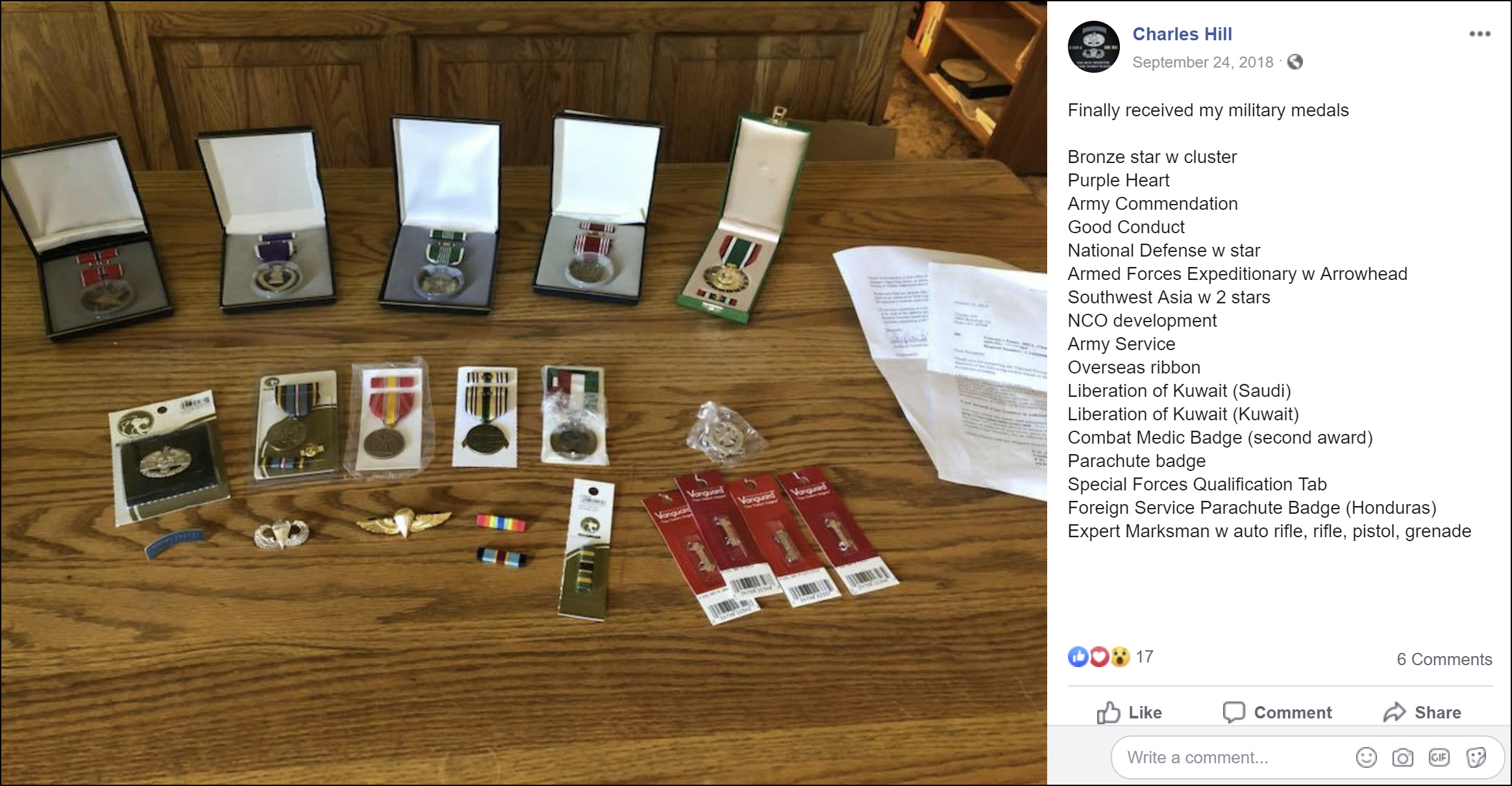 Here is a detailed list of the medals on his uniform…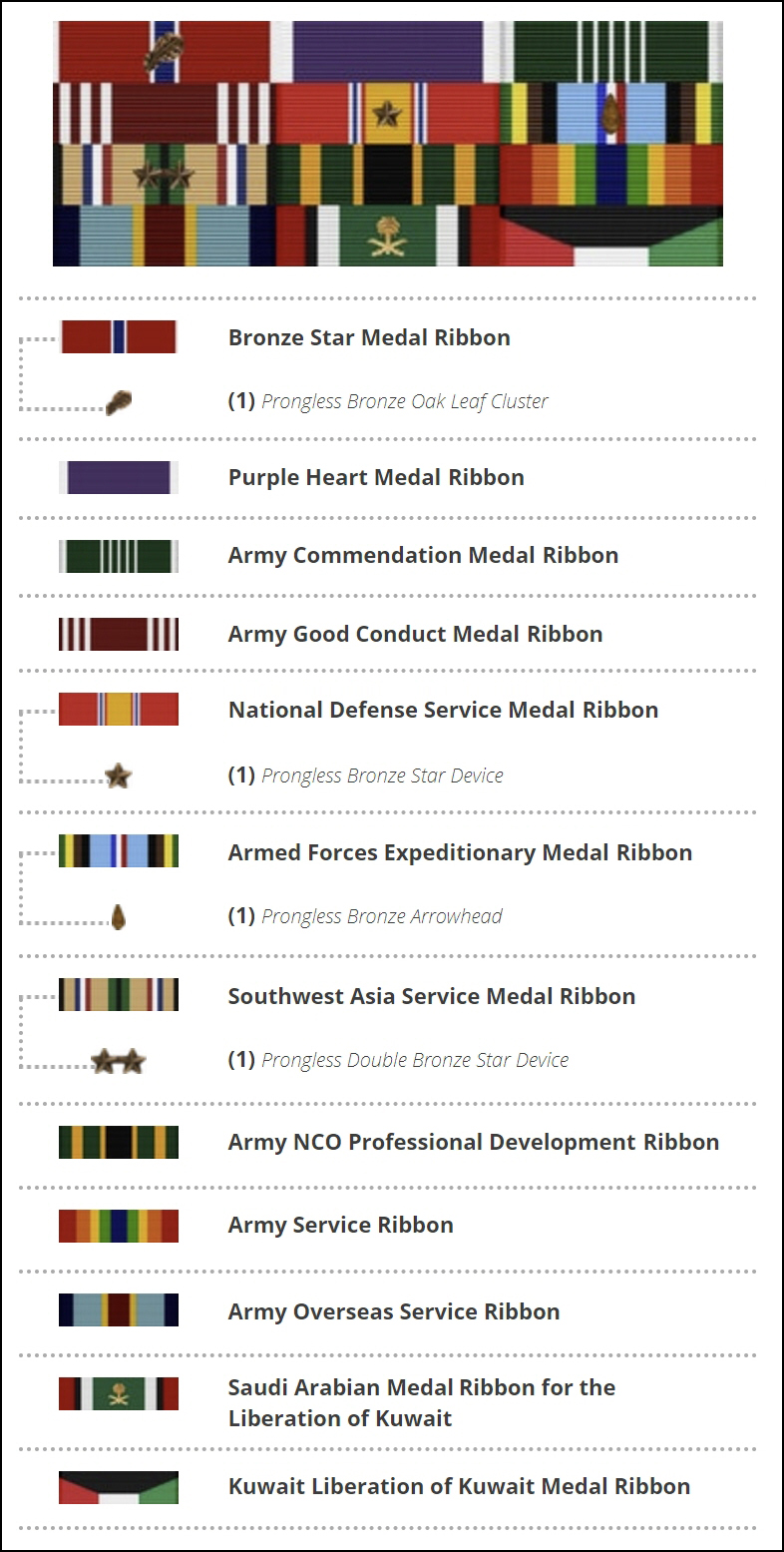 Hill also has Special Forces, a Combat Medical Badge and Parachute Badge on his Facebook profile…
Various people asked Hill about his military service through Facebook Private Messages (PMs) and he spoke of his time with 7th Group (Special Forces)…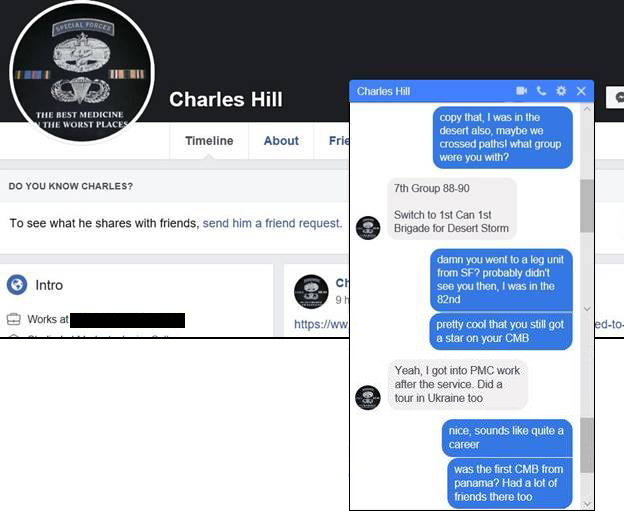 In another conversation, he explained his move from Green Berets to 1st Cav…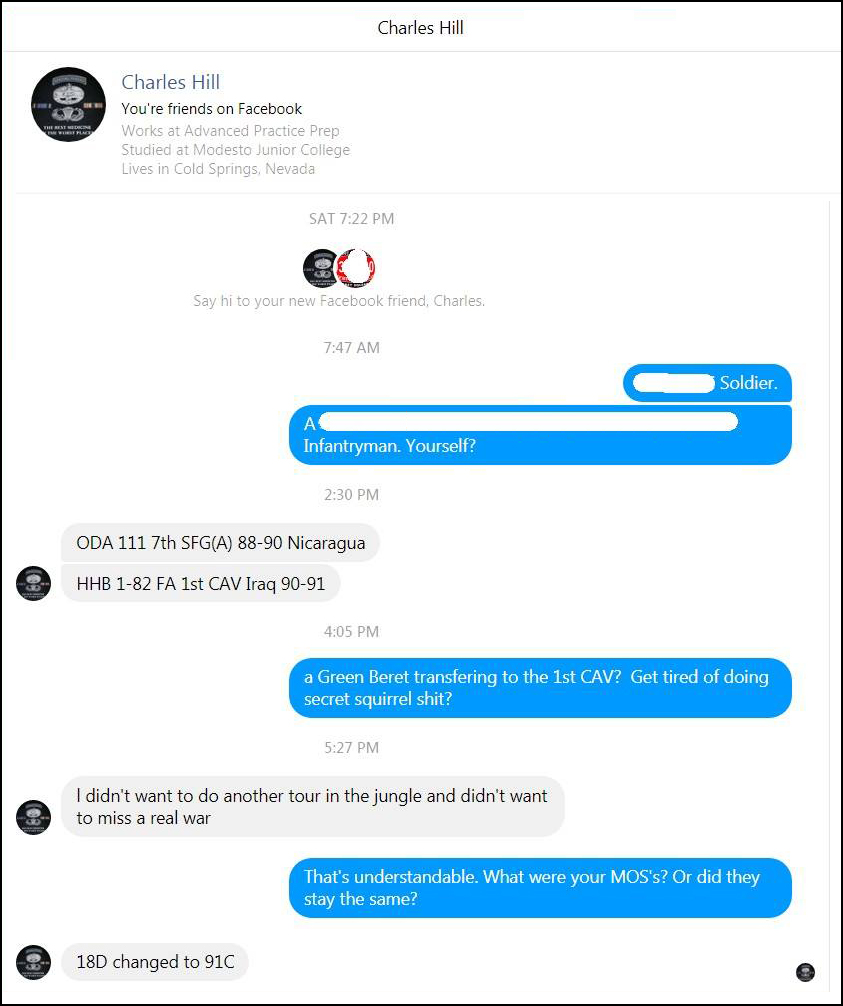 In yet another conversation, he spoke about his Purple Heart and combat wounds as well as his "6 tours in 3 wars"…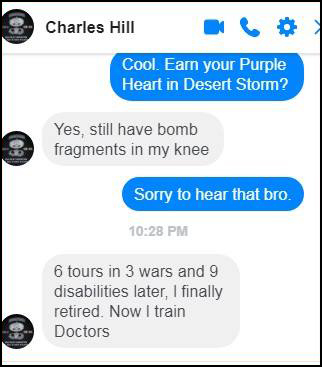 But once you make it out of "the suck" there's a whole world that embraces you…
Charles Hill's official military records were ordered through a Freedom of Information Act (FOIA) request:
DEPARTMENT OF DEFENSE MANPOWER DATA CENTER (DoDMDC/SCRA)
NATIONAL PERSONNEL RECORDS CENTER (NPRC)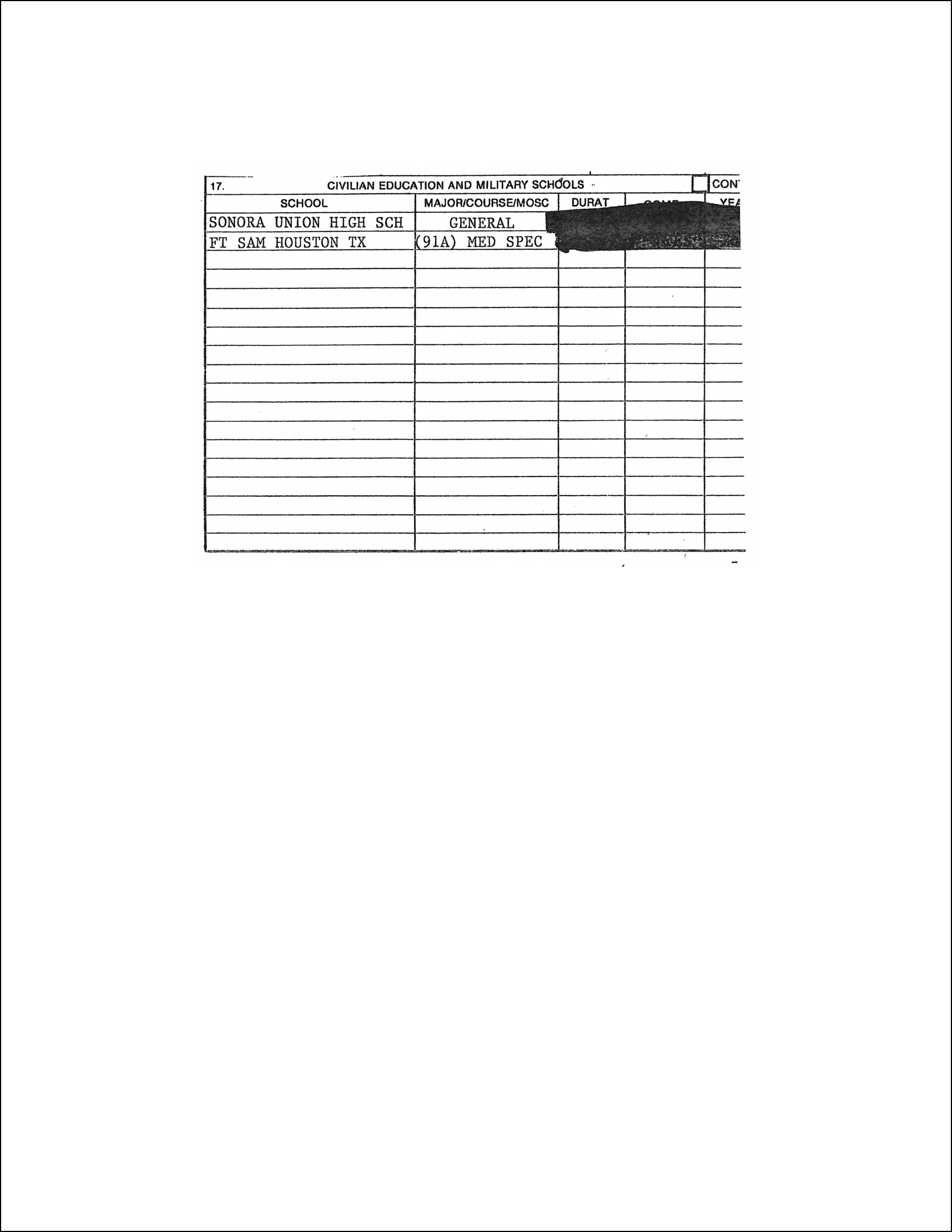 Hill was in the Army Reserve/California National Guard but enlisted into the regular Army from 04 OCT 1990 to 16 NOV 1991 in support of Operation Desert Shield/Storm.
He was with 1st CAV but was not with 7th Special Forces Group and was not a SGT in spite of what he had engraved on his bottle-openers…
Hill got out as a PFC (E-3) vs. his claim of SGT (E-5).  He did a little over a year active duty and a little over two years combined active duty and reserve, but not the 6 years that are claimed by nature of the service stripes on his sleeves.
He also appears to wear the bling with civilian clothes…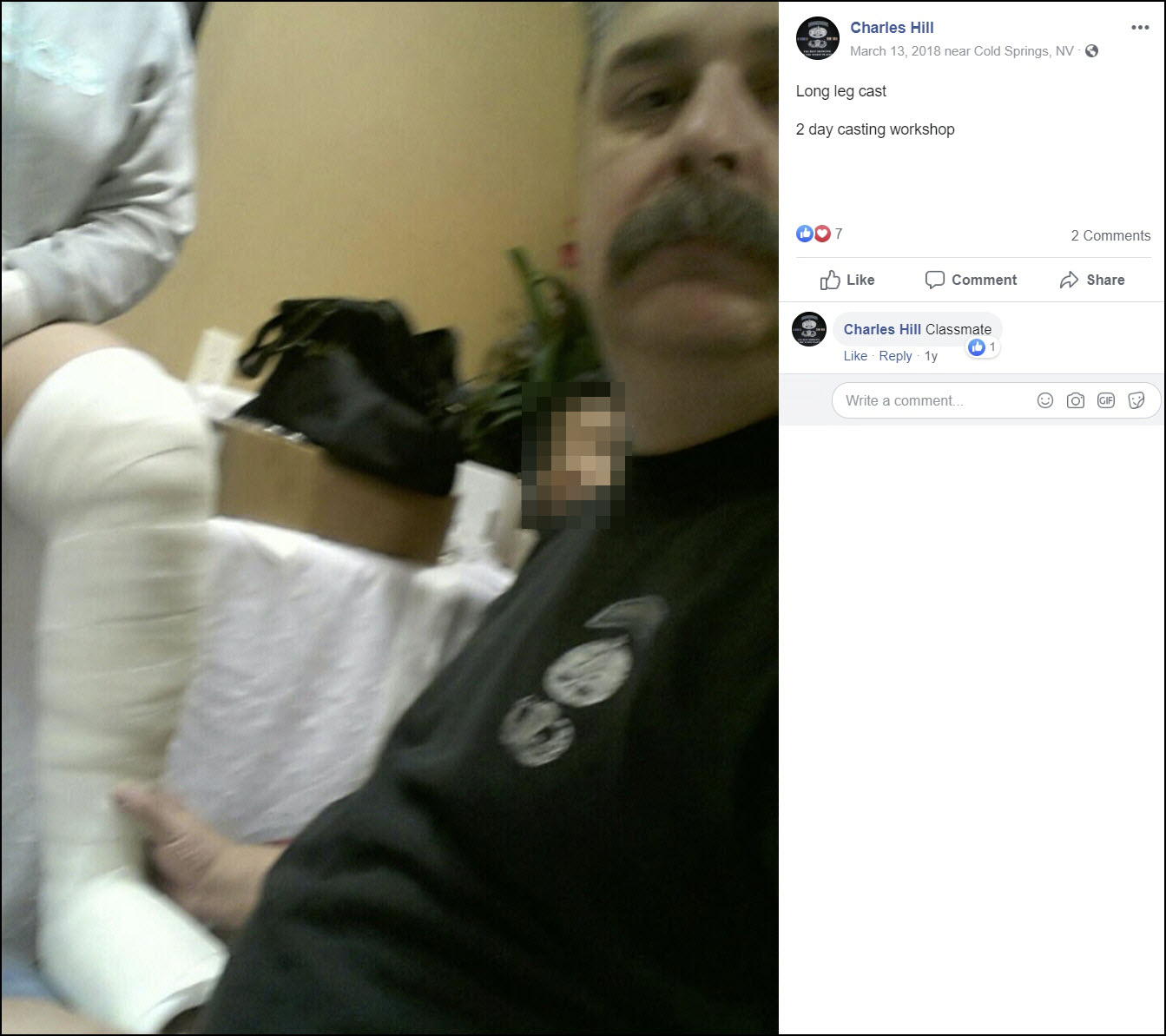 Just to help with a quick comparison, medals Hill claimed were placed alongside the medals that were actually listed in his military service record…
Perhaps the most egregious is Hill's Purple Heart and combat-wounded claim.  This is not supported by his official military records.   Maybe he shouldn't park at the Purple Heart – Combat Wounded spot at his favorite restaurant anymore.  After all, he could be denying someone from parking there that was… I dunno… combat wounded and has the documentation to prove it.
Would love to see the X-Ray of "bomb fragments in my knee" because they are most likely not bomb fragments if they are even there at all.
Still puzzled over the claim of 6 years of active duty, 6 tours and 3 wars.   Which three US of A wars could one be in during a span of six years?
There's only so much lethality that the US Army can stuff into one package, but on paper, Hill has it all – only it's not on the paper that it counts – official military records.
It also appears that in spite of Hill not wanting to go to the jungle again – the only bush he got close to is right under his nose.
Shut up. Just shut up.
You had me at "Hooah!"


---
---
Soon after Military Phony published the blog on Charles Hill – his Facebook page lit up like a Christmas tree since his page was open for comments.
This was his first response:
But then, he deleted that post and deleted all photos of him in uniform with the Purple Heart, as well as deleting the photo of all his medals on the desk.
Category: Army Poser, Iraq, Kuwait, Phony soldiers