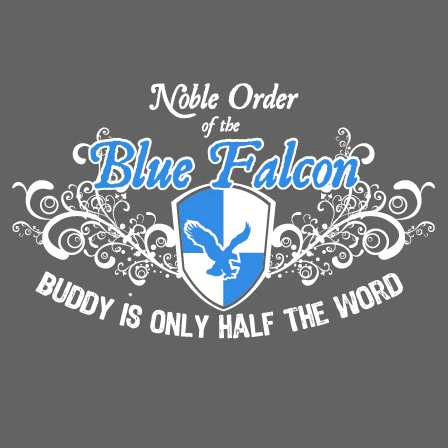 UPDATE: Guys, you are killing me. Name. Link. Sentence or Three. That's it. No link makes me have to go looking.
Also, make sure that the link is either THIS YEAR, or somehow the person again did something THIS YEAR.
Also, if you go to this link, you can start at the top and go down, pick someone. But again, must be in 2014 (or December of 2013).

My intent was to go through every Stolen Valor Link we had for the entire 2014.  (Actually also including December of 2013 if there were any notables.)  I made it to February, and I had over 100 names.
Clearly that isn't going to work.  It's just too much for one guy to do.  So I am going to option B.  You guys nominate folks, then I will cut it down to 64, and then I will seed them.  Then we can play it out and see who wins the coveted Blue Falcon for Falconry above and beyond all other asshats.
So here is how it works.  Write the name.  Put in the link.  In no more than 3 sentences, argue what he/she did that merits inclusion.
And for the love of God, read the comments first to see if that person has already been nominated.  If you agree with a previous nomination, you may "reply" to that one and add something.  In fact, I encourage you to do so, so I can judge seeding. Again, keep it short.  I just need to get a list, and then will go through it.  The intent is to start the tournament next week.
So again, nominate someone.  Here would be an example, and will be mine.
TSO nominates Gregory Charles Banks.   http://valorguardians.com/blog/?p=39262  Banks is the chap that went from Mason lodge to Mason lodge claiming he was a Special Forces Afghanistan veteran.  The NPRC has no record of any service.  He's threatened legal action, and is even using his mom to defend him.
That's it.  Name.  Url/Link.  Short bio just so I will remember who you are talking about.
Seriously, keep it short.
Now, go.  You have until Friday to get nominations in.  I suspect we will go over the 64.  I will be editing comments occasionally just to add numbers to the nomination.  This does not mean the person is in.  It is simply a mechanism to see where we are.
DO NOT LEAVE COMMENTS THAT ARE NOT NOMINATIONS.  If you do, I will likely delete it, because honestly, this thing is confusing enough already, and takes a TON of work on the back end to set up.
Editor's Note: We've finished with the process. Thanks to everyone who helped out. The seeding is compete and it will be announced in the next few days.
Category: Stolen Valor Tournament