Iron Lady, Margret Thatcher
…but Scandinavian Socialism is a myth.
Veritas Omnia Vincit is back, this time with his timely thoughts on myths circulating among the chattering class about how the USA should follow Norway, Finland, Denmark, and Sweden into Socialism. That argument falls flat for numerous reasons, so this a good place to shut up and give the helm to VOV.
Veritas Omnia Vincit
Expanding on some of my thoughts in a previous article about the size of the clown car on the Democratic side for the primary season I am interested in seeing the new coverage on almost all of the Democrats who are now trying to "out Sanders" Bernie Sanders. Many of these "progressive" candidates are simply spouting positions previously held by Bernie Sanders, free this or free that, as a mechanism to engage younger more energized voters. Many of the current crop of progressives are progressive in the way that one might view a coyote as a dog. It might look and sound similar but it's not the real thing. To his credit Bernie has the personal integrity to hold the same positions for decades. Often the wrong position, but the man is nothing if not consistent.

My favorite aspect of this, now that Venezuela has gone belly up while its people eat zoo animals, is the use of the Nordic model of "socialism" as an ideal that Americans pursue. The reason I enjoy this comparison is that it's actually wrong on every level. There is nothing socialist about the markets in the Scandinavian world.

The arrogance of Americans who believe they can redefine the word socialist to mean what they want it to mean instead of what it actually means never ceases to amaze me. Americans try and tell me that socialism is present in the social services of these Scandinavian nations. Newsflash for the purposely ignorant, social services DO NOT equal socialism. A close look at the Scandinavian economy and market structures indicate quickly how wrong that idea of socialism in Scandinavia really is in defining their society and economy.

Let's look at what's true in the statements, Norway, Finland, Denmark, and Sweden are fairly successful economies. I would agree with that assessment. What is false is they are successful because they are socialist. That's not at all accurate based on the evidence. The Fraser Institute is a think tank that ranks the economic freedom level of every nation in the world…as an indicator of economic freedom the left's former darling, Venezuela, is ranked 162nd on this chart while the actual commies in China are 107th. Meanwhile the US is 6th on the list with Denmark at 16, Finland at 22, Norway at 25, and Sweden the worst of the lot at 43, all of them however in the top third of most economically free market nations. Hardly socialist by traditional definitions.

Additionally what's truly interesting in my research is that Sweden actually operates a full blown school voucher program where parents can utilize freedom of choice in the form of those vouchers to send their children to public or private FOR PROFIT schools using those vouchers. Hardly the stuff of full blown socialism, allowing people to take their tax money back and use it as they wish instead of how the government dictates. Anders Bohlmark and Mikael Lindahl authored a study in 2012 regarding the success of the Swedish voucher system. They draw the conclusion that the public system having to compete with the private system has resulted in better average outcomes across the board for ALL students in Sweden. They note that it took a decade to start to see these results but they note they are seeing them largely due to competition in their view.

Another interesting component of the free market economy in Sweden is that there is no legally defined minimum wage. They have strong union presence in many industries and fields which negotiate appropriate competitive wages, but the government takes no position either way in managing the outcomes of those negotiations.

The basic economic markets in these countries have little government interference in how they operate and consequently they are as I noted above considered to be fairly free markets and not at all socialist in nature. That they have chosen to pay a high tax rate to receive a high measure of social safety services is their choice as a society. We may or may not agree with their choices, but they are certainly free enough to choose their own path as they have done. It does not make them any more socialist than the United States.

I'm certainly willing to discuss social benefits that add to the general welfare, I am not however willing to discuss them dishonestly. If Bernie Sanders and the rest of the Democrats want to talk about Socialism that's fine. They should stop using Scandinavia as a model for their belief system as that reference is not only inaccurate it's somewhat dishonest in its attempt to define on their terms what is happening in another country.

As always I don't want you take my word for any of this, I'll just let the former Prime Minister of Denmark (Lars Løkke Rasmussen) use his own words on this subject….

"I know that some people in the US associate the Nordic model with some sort of socialism. Therefore I would like to make one thing clear. Denmark is far from a socialist planned economy. Denmark is a market economy,"

"The Nordic model is an expanded welfare state which provides a high level of security for its citizens, but it is also a successful market economy with much freedom to pursue your dreams and live your life as you wish."

That's all for now, thanks for reading and let me know your thoughts.
VoV
Thanks, V. You knew this was coming- a lure to draw some over to the dark side..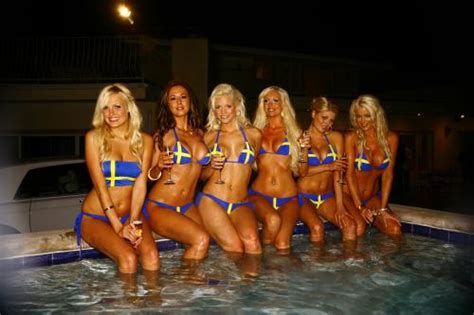 Swedish Bikini Team
Category: Guest Post, International Affairs